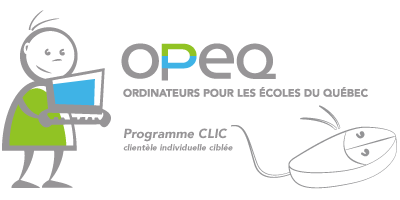 The OPEQ CLIC program allows low-income families to purchase a refurbished desktop computer at low cost.
Intended for family use, this computer will play a significant role in the academic or professional journey of all family members.
All applications MUST come from organizations that will validate the eligibility of the beneficiary of an OPEQ computer.
---
---
What computer equiment will you receive?
---
---
---
Which organization can help you order a computer?
Community organizations that intervene directly with low income clients can act like an enquirer to OPEQ.
Which organizations are eligible?
An organization that is already a client at OPEQ
An NPO with a Quebec Enterprise Number (NEQ)
If you are part of a community organization, you can invite a supervisor to contact us in order to take note of program's details and how to order.
If the organization that helps you IS NOT an OPEQ's client already, you can invite them to fill this form and we will contact them after checking their eligibility.
---

The CFS program is financed in part by the government of Canada.