Working at OPEQ gives meaning to your job!
By working at OPEQ, you will be part of a dynamic team committed to maximizing the positive social impact of the organization!
Together we take on many challenges daily that help thousands of people each year and are beneficial to the environment!
Working at OPEQ means putting your work at the service of several great causes, always with respect and thoughtfulness.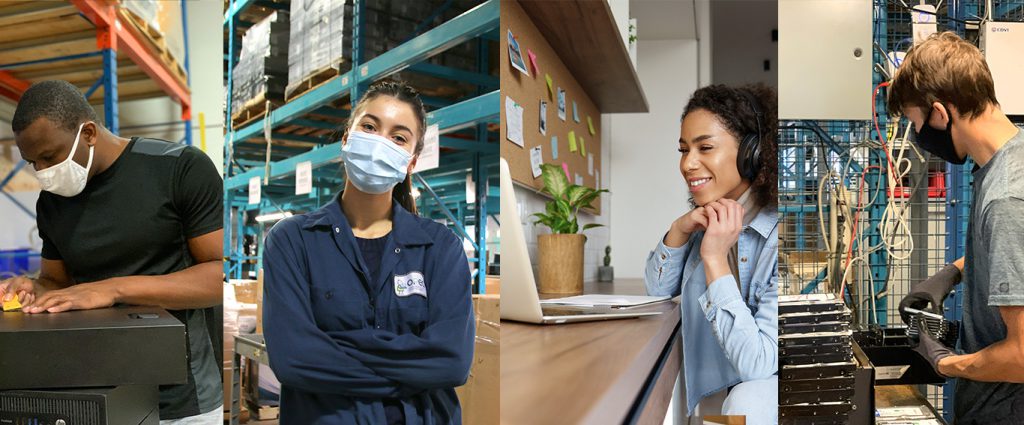 ---
Diversity And Inclusion
We advocate diversity and inclusion. They are embedded in our values.
At OPEQ, we recognize the differences of our teams and we strive to create a diverse and inclusive environment in which our employees feel that we value their uniqueness, that we recognize their multiple talents while being free to be themselves.
We consider the diversity of our talents to be an asset. We believe in and adhere to the principle of equity in employment.
---
Fields Of Employment
You can join our team through different types of positions:
Permanent job: an opportunity to be part of a dynamic and multidisciplinary team, located throughout Quebec, for whom social and environmental issues are important.
OPE internship: a long-term, concrete, practical and paid work experience. A wide range of internships offer young people the opportunity to work at the very core of the digital economy. More information on OPE internships.
School internship: the possibility of hands-on internships on site to complete your school curriculum.
Volunteering: to acquire experience and share yours with young people.
---
Permanent Jobs
Montreal – Market development advisor

Montreal- Assistant manager

Montreal – Customer Service Coordinator
---
OPE Internships
OPE internships last 900 hours, which is approximately 6 months, full time.
We offer different types of OPE internships:
Computer science
Human ressources
Communications
Eligibility
At the time of hiring, you must meet the following criteria:
Be between 15 and 30 years old;
Be a Canadian citizen, permanent resident or have received refugee status from Canada;
Have authorization to work in Canada
The following workers are excluded from the program:
Temporary residents;
Tourists;
Students holding a student visa;
Workers with a temporary work visa.
---
School Internships
All our sites welcome interns from computer science schools. School internships are short, practical and unpaid.
---
Volunteering
Computer technician
IT warehouse clerk
---
The OPE internship program is an initiative of the Computers for Schools program.
The OPE + program is funded by the Government of Canada.