ORD-i5-1GSSD
Sale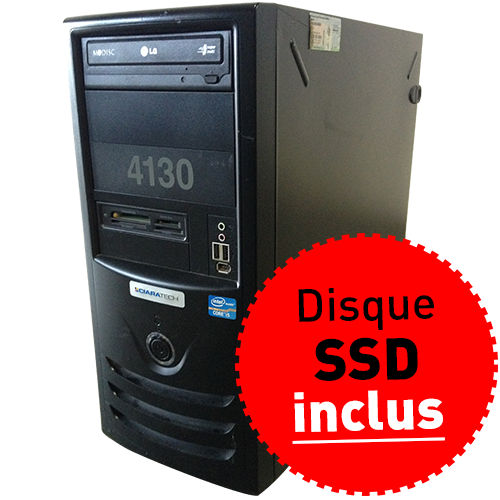 Intel Core i5
(1

st

 generation)
4 GB RAM
120 GB SSD
250 GB Hard Drive
1 year warranty (in store)
All OPEQ systems include one of each, at no extra cost:
keyboard & mouse (both refurbished)
a network interface card
a sound card
a DVD reader
---

If you desire a complete system, choose an optional LCD Monitor below.
---
Photos are for illustrative purposes only. Actual model may vary.
---
This offer is only available on CIARA computers:

Founded in 1984, CIARA is a global technology provider that specializes in the design, development, assembly, integration and support of computer products. With its vast array of standard and customized technology products and a current production capacity of up to 1,000,000 systems per year, CIARA is ranked amongst the largest system manufacturers in North America. The company's products are employed worldwide by organizations from small to large, in the sectors of finance, aerospace, engineering, transport, oil and gas, government, education and defense.
CIARA products include personal computers, high performance workstations, enterprise servers, high-frequency servers, personal clusters, carrier grade servers and appliances, storage devices as well as GPU computing systems. CIARA takes great pride in the quality and performance of its products.
CIARA systems are extensively designed for reliability and efficiency, tested for compatibility and optimized for customer software and applications. In addition, to ensure greater control over the quality of its output, CIARA systems are all designed, assembled and integrated in North America within a Quality Management System in accordance with the established industry standards of ISO 9001 and ISO 14001.
Back to the catalog